Live Webinar - Tuesday | September 10 | 10:00 AM EDT

Frequency domain methods for fatigue analysis and/or general random response analysis have experienced a resurgence over the last few years due to improved technology and better computational processes. Today, a complete range of models can be processed from full vehicle systems to local component systems. With this resurgence, Software Developers have taken the challenge to broaden the scope even further of what can be done in the frequency domain. This webinar will discuss the current state of the art and the New Technology trends that are currently being realized by the work of CAEfatigue Limited.
Webinar Outline
The webinar will briefly discuss the current state of the art for doing frequency domain random response and fatigue analysis. This will be followed by an overview of new technology coming to the market including advanced random response, collision detection, loads cascading, surrogate loading and vector loading assessment.
Who Should Attend?
Users / Managers who would like to understand both the technical advantages and business advantages of using frequency domain technology to calculate fatigue and random response.
Speaker: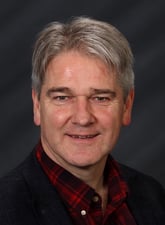 Dr. Neil WM Bishop


CEO/CTO
CAEfatigue Limited