Live Webinar - Tuesday | October 22 | 10:00 AM EDT

Maple offers many signal processing tools that help you extract meaning from your data. From transforms and spectrograms to filter design and cepstrum analysis, you can use these tools in an environment that lets you document your analysis as you do your calculations.
Webinar Outline
This webinar will introduce these tools through a series of applications. You will learn how Maple can be used to:
Remove the echo from audio with cepstrum analysis

Predict the orbital period of an exoplanet with Lomb-Scargle periodograms

Filter data with IIR and FIR filters

Generate spectrograms of audio

Compress audio and images with discrete cosine transforms and wavelets

Apply FFTs to remove noise from images

And more
These tools are fast, memory efficient, and supported by functionality for statistics, data analysis, math and visualization.
Who Should Attend?
This is a tool that's widely used across all engineering disciplines, so it would be applicable to all engineers.


Speaker: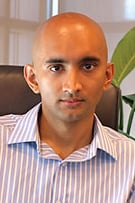 Samir Khan


Product Manager
Maplesoft