This webinar will feature VMAP, an experimental modal testing and FEA-Test correlation software product of TechPassion. A unique feature of VMAP is its simple user interface and interoperability designed to meet the needs of both beginners and expert users. In this webinar, we will present an overview of the features and benefits of VMAP. In addition, the webinar will feature a case study that shows the users how VMAP can be used to solve vibration problems in automotive products during the early design stages and accelerate product development. We will also discuss briefly an emerging application for modal testing and analysis in the characterization of metal parts made via additive manufacturing process such as selective laser sintering.
Webinar Outline
VMAP 4.6 – Overview of features and benefits
• Hardware Interoperability
• FEA Interfaces
• Live Demonstration with a case study
• Application of Modal Analysis in Metal Additive Manufacturing
Who should attend?
Engineers working in new product development in the engineering specializations including NVH, Modal Testing, FE Modal Analysis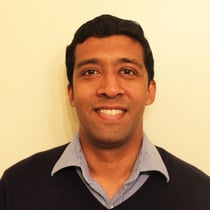 Presenter: Dhanushkodi Mariappan
Director
TechPassion