Prediction of the Vibration Behavior of Short-Fiber Reinforced Engine Brackets
Live Webinar: Thursday | April 16 | 10:00 - 10:30 AM EDT
---
In this webinar, a procedure for the prediction of the vibration behavior of short fiber reinforced structural components considering the anisotropic material properties is presented. The fiber orientation is determined by an injection molding simulation and transferred to the structural mechanics model. The determination of the anisotropic stiffness characteristics of the composite material is based on a multiscale material model. The identification of the parameters of the material model is carried out by comparison with resonance measurements on simple bending bars. As an example, results for an engine bracket are presented. Due to the comparatively simple application and scalability of the procedure, high-performance computations can also be conducted for large models.
Webinar Outline:
Anisotropic Component Behavior – Integrative Simulation Approach

Anisotropic Material Modeling and Parameter Identification

Correlation of Test & Simulation of the Engine Bracket
Who should attend?
This webinar is of interest for all who are involved in the simulation of short-fiber-reinforced plastic components that undergo vibration loads. Although an example from the automobile industry is taken here the webinar is not limited to that branch.
Speaker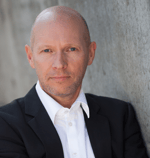 Wolfgang Korte




Managing Director
PART Engineering