What to expect at the booth
Together with our Partners APWORKS, M&H CNC Technik and RSC Engineering we will be presenting several solutions engineered with Altair technology, such as the Sogeclair optimdoor, a hybrid-lattice hip implant - a joint project by Altair and EOS, Stephan Henrich's BushBot-Chair, an optimized packaging line component by elmec3D, a 3D printed support arm (M&H) as well as an optimized foot rest and the housing of an e-drive (RSC).
Explore the Altair Inspire platform which enables you to identify system requirements, create structural innovation, and assure manufacturability within a single simulation-driven design environment. Identify performance and cost saving potentials in the early stages of a development process.
Demo Theater

The Altair booth will feature a dedicated demo theater illustrating the creative application of simulation technologies for various manufacturing methods, including product demos of Altair Inspire and SIMSOLID. The demo theater will host demos and presentations daily.
To see detailed Agenda click on the image below or download it here. Agenda is subject to change.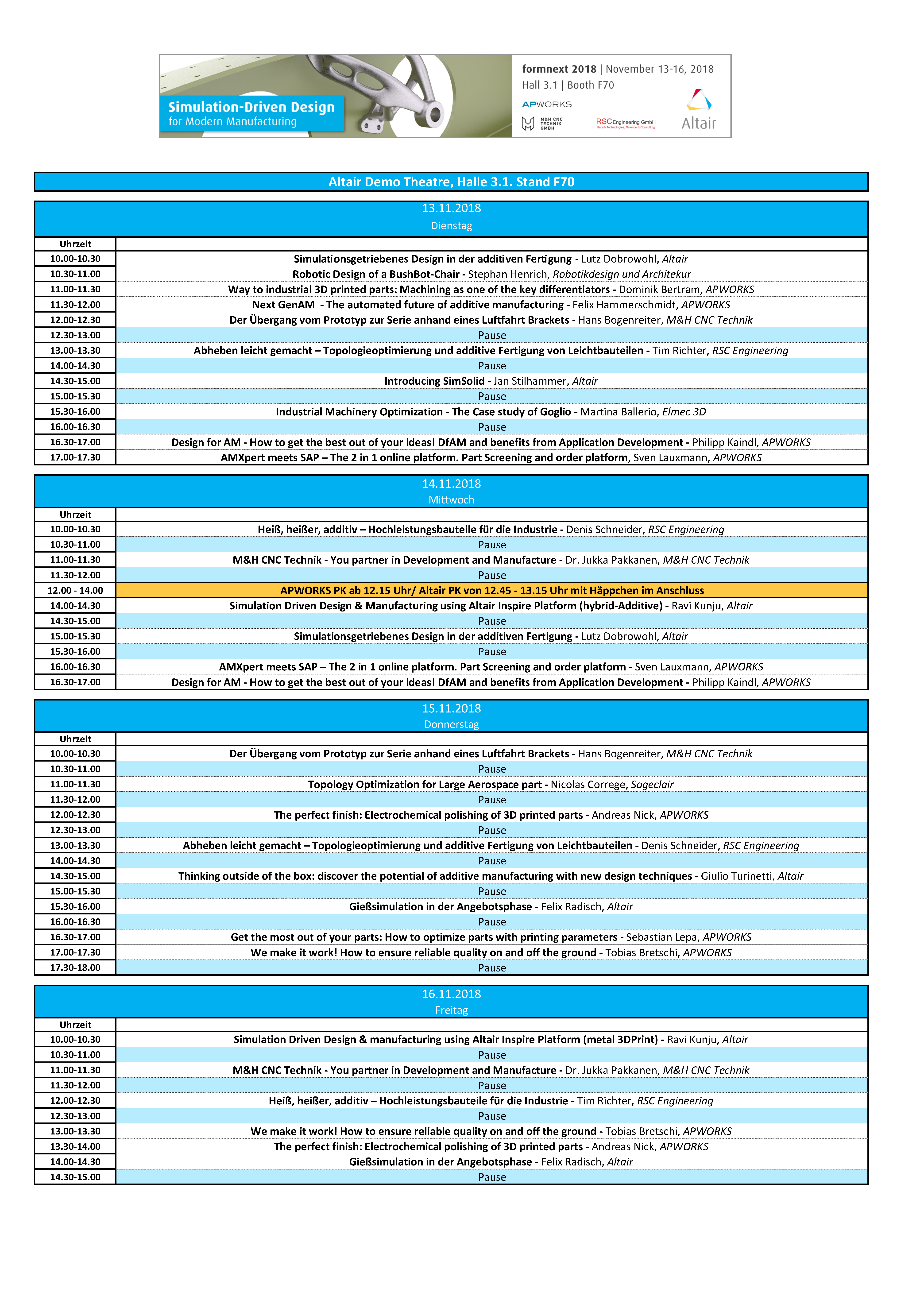 #InspiredByAltair - learn more about us at formnext
Throughout the show products designed, simulated, and optimized with Altair solutions, can be found at the booths of VDMA and Purmundus.
Especially noteworthy is the process chain presented at the VDMA booth. Within its engagement in the AM workgroup Altair contributed a two folded design of a component. One process covers the design for a powder bed laser melting realization, the other for casting, both including topology optimization considering manufacturing constraints and the assessment of the manufacturability.
Look out for us and help us tell our story with #InspiredByAltair on Social Media.