Presenters
Adam Beckwith, Software Product Manager, Matereality
Dan Roy, Mechanical Engineer, DatapointLabs
Ira Goldstein, Director of HW Collaboration Tools, Altair Engineering

A centralized, secure materials knowledge core ensures that all members of your product development team have reliable access to a curated database of materials that are pertinent to your products.
This data can come from your material suppliers, your trusted internal or external testing lab, from the Matereality cloud, or other web- reference databases. Easily analyze your data, compare materials, create CAE material files from raw data, add your existing CAE material files to your database, and export master CAE material files from your Matereality database into HyperMesh using Matereality's suite of browser-based software.
This webinar will show how Matereality's Workgroup Material DatabasePro on Altair's HyperWorks platform brings a hurdle-free interaction with materials information for design engineers. Attendees will learn how to:
Create and manage a materials library relevant for the materials in your products
Upload existing material data from different sources or get material data from a testing source such as DatapointLabs.
Matereality Workgroup members receive discounted rates for testing at DatapointLabs, and all testing results are deposited directly into your Matereality database.
View and Analyze your data
View analytics, plot graphs, and perform comparison studies using Matereality software modules.
Populate your database with product specific CAE Material files
Create CAE material files for your CAE Software from raw data in your database using inbuilt Matereality modules like RADIOSS for FEA.
Upload externally created CAE model files into your Workgroup database.
Collaborate with other members of your Workgroup
Manage your material data as well as share, control access, and transfer ownership using the Matereality data libraries.
Allow all members of your Workgroup to access the same designated material data and CAE material files.
Integrate with HyperMesh
Collect all relevant CAE material model files and export as a HyperWorks Collaboration Tools master material library.
Access materials from the HyperWorks Collaboration Tools master material library for use in your simulation projects.
Who should attend this webinar? Product Designers, Simulation Engineers, Project Engineers, Application Engineers, Research Engineers, CAE managers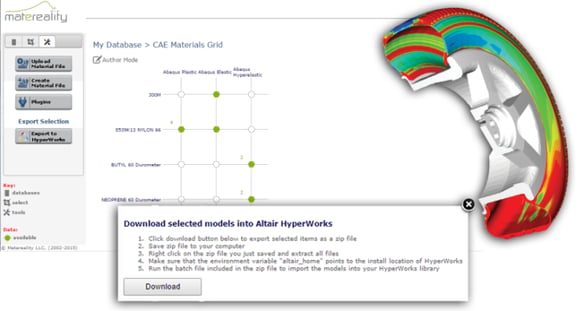 Export relevant CAE Material files as a Master Material File for HyperMesh.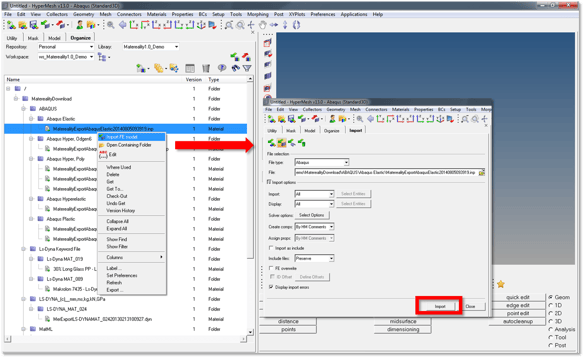 Import Master Material Files to your HyperMesh environment.