On-Demand Webinar
This webinar is brought to you through a collaboration with 3D Hubs

Driving designs that are cognizant of the downstream manufacturing processes
Learn how companies are increasing functionality while decreasing costs by combining design optimization and advanced additive manufacturing technologies.
Our guest speaker and industry expert, Alkaios Bournias Varotsis will share the newest industry trends and key design considerations for AM:
Existing designs
Assembly consolidation
Overhangs
Light-weighting
Then we will explain how topology optimization and generative design software further exploit the benefits and capacity of additive manufacturing. With the end goal of generating designs, you will be able to increase function and reduce material, weight, design time, and cost.
To learn more, fill out the form to the right to register for our live webinar!
Plus, don't miss the rest of the webinar series Design for Manufacturing.
Speaker: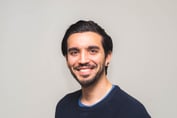 Alkaios Bournias Varotsis is responsible for all technical content published on the 3D Hubs platform, the smartest global network of manufacturing services. His mission is to help engineers grasp the full benefits of 3D printing and other digital manufacturing technologies. He is also the author of the 3D Printing Trends 2019, a report about the latest developments on the 3D printing industry. Before joining 3D Hubs, he studied for his PhD in Additive Manufacturing at Loughborough University, UK.