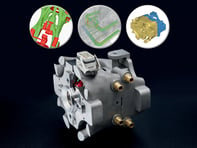 Using the virtual Cobot demonstrator, we will show the development challenges of smart devices and solutions Altair can offer.
In addition we will present the development process of PROTIQ's new, additively manufactured injection molding tool. With this case study, we illustrate how topology optimization and CFD simulation help to create new, lighter, better, more efficient and faster tools, enabling shorter cycle times.
The hybrid manufactured Mountain Bike from Robot Bike Co, which combines 3D printed structural nodes with a frame of carbon fiber, is proof of an efficient development process, including the design and optimization of various materials and different manufacturing methods.
Jointly with Amazone, voxeljet and Procast-Guss, we will present a bionic rocker arm. The casted component is, compared to the previously welded part, lighter, uses less material, and has an increased durability.