This free FEMFAT Basic training is a one day, introductory course that covers the basics for getting started with fatigue analysis using FEMFAT software. The course combines lecture and workshop to teach you how to set up and run a fatigue analyses.
The course begins with a primer on fatigue theory, covering fundamentals like S/N Curve, Haigh Diagram, Rainflow Matrix and Critical Cutting Plane Method. Next, we walk through the GUI to demonstrate how to set up and run an analysis. Finally, the workshops allow you to practice, hands-on, what you have learned.
After completing this course, you will have a grounded understanding of fatigue theory and the confidence to perform analyses using FEMFAT Basic. Time permitting and depending on the progress of the class, the instructor may also touch on some advanced fatigue topics, such as multi-axial fatigue analysis (FEMFAT Max), linear elastic stresses (FEMFAT Plast), static safety factors (FEMFAT Break) and others.
Who Should Attend? Engineers who have never done a fatigue analysis and/or beginner through intermediate users of FEMFAT.
Outline of Agenda
FEMFAT Introduction and Theory

Overview of FEMFAT Modules (Basic, Plast, Max, etc.)
Fatigue: Crack Initiation; S/N curves

Influence Factors: Relative Stress Gradient, Haigh Diagram

Critical Plane Approach

Safety Factor

Damage Accumulation
Working with FEMFAT
FEMFAT Basic
Workshop Problems - A few example problems for students to work on; these will be mixed in with the theory based training
Other - If time permits, we may look at one or two other modules, like FEMFAT Max, FEMFAT Plast, etc.
Space is limited to 15 students and lunch will be provided.
This course will be taught by Carl Osterwisch, Caelynx Technical Manager.
Caelynx is partnered with Engineering Center Steyr (ECS) and is the North American distributor of FEMFAT, handling all sales, traning and Level 1 support for the region.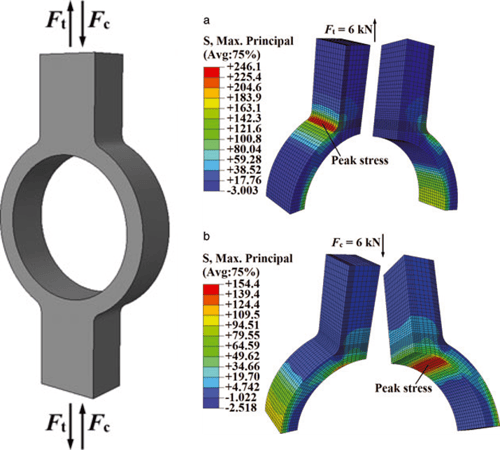 Example of successful benchmark using FEMFAT. Round-robin prediction of the fatigue limit of a ring of spheroidal graphite cast iron.