Optimizing your CAE data preparation with HyperMesh and CADdoctor

Presenters
Shun Higashide, Global Business Analyst, Elysium Co. Ltd.
Sergi Chanukaev, Altair Israel, Altair Engineering
This webinar will incorporate how CADdoctor has been a flagship product in data translation and optimization by helping users to prepare the best 3D data for their optimal CAE analysis.
With the hybrid use of HyperMesh, your project will advance to the next step, enabling a seamless workflow from data healing, optimization, and meshing in less time than ever.
We will also introduce active use cases utilizing the HyperMesh/CADdoctor combination workflow, giving you a deeper insight into how these 2 tools will create a difference.
Webinar Outline

Who is Elysium? How has it been a leading interoperability solution provider?

What is CADdoctor and how has it been helping companies from small to big solve their CAD data problems?

How will the hybrid use of HyperMesh and CADdoctor reduce your lead time and optimize your workflow?

A presentation of real customer use cases and their results.
Who Should Attend?

Professionals in charge of CAE data preparation from automotive, electric, heavy industries, etc. This webinar will aid you in optimizing your workflow by reducing your time for data preparation.
Download the available CADdoctor use cases here.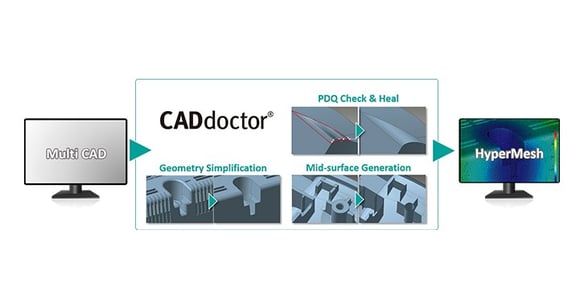 CADdoctor provides a seamless connection from multiple CAD formats to HyperMesh