AVL FIRE™ M is a multi-domain simulation software, which allows to compute simultaneously non-reacting single phase flows, heat transfer and solid temperatures in systems without moving boundaries.

FIRE™ M as of today includes the following components: CAD Data import, CAD Repair workflow, Grid generation, Model setup, Job submission, Post-processing …

FIRE™ M Users can directly import geometry data various native and common exchange formats. Imperfect data can be repaired using the offered CAD Repair capabilities.

FIRE™ M offers two meshing tools, FAME™ Poly and FAME™ Block. Both tools allow the generation of boundary fitted meshes with grid boundary layers of user defined thickness.
FAME

™

Poly is a fully automated grid generator. It can be applied to discretize geometries of all complexity levels. Additionally FAME

™

Poly allows simultaneous meshing of multiple domains.
FAME

™

Block is an interactive grid generator, enabling users to generate 2D and 3D block-structured grids of highest quality.
Setting up a simulation model in FIRE™ M is very easy, regardless of the complexity of the problem. The user assigns equations and material data to each individual domain. Property data for a large number of fluids and solids are available in a property database.

The post-processor of FIRE™ M offers displaying data in tables, graphs, plane and surface plots. Streamlines and droplets can be visualized too. Post-processing can be done interactively or based on pre-defined templates. Templates can be used in order to automatically generate problem specific reports.
AVL FIRE™ M is now available through the Altair Partner Alliance. Learn more
About AVL List GmbH
AVL is the world's largest independent company for development, simulation and testing technology of powertrains (hybrid, combustion engines, transmission, electric drive, batteries and software) for passenger cars, trucks and large engines.
Scope of Business:
Development of Powertrain Systems: AVL develops and improves all kinds of powertrain systems and is a competent partner to the engine and automotive industry. In addition AVL develops and markets the simulation methods which are necessary for the development work.
Engine Instrumentation and Test Systems: The products of this business area comprise all the instruments and systems required for engine and vehicle testing.
Advanced Simulation Technologies: The developed simulation software is focusing on design and optimization of powertrain systems and covers all phases of the development process.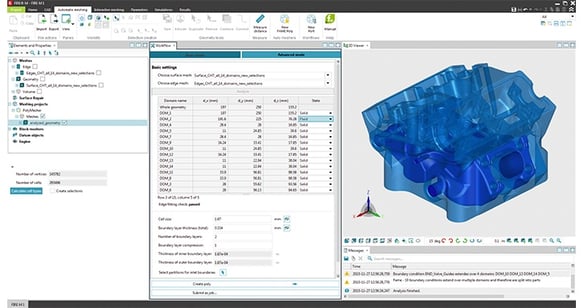 Clearly structured GUI of FIRE™ M for simple and fast setup of even most complex models. Material database included.