AVL EXCITE™ Acoustics is a tool for the calculation of sound radiation in free field from vibrating structures such as engines and power units using the Wave Based Technique (WBT).
Interfaces to common FE tools for the import of the vibrating structure geometry and the pre-calculated structural vibration (surface velocity boundary condition) facilitate a seamless integration in the NVH simulation workflow as the final step of acoustic analysis.

A unique fully automated procedure has been implemented to generate the acoustic mesh starting from the unmodified structural FE mesh used for the structural vibration analysis. Thus, the acoustic simulation model can be set up easily and very fast with only a few mouse clicks.

The used WBT is based on an indirect Trefftz approach expressing the dynamic acoustic pressure as a linear combination of wave functions, which exactly satisfy the homogenous Helmholtz equation. Since a fine acoustic mesh discretization is not required and is not dependent on the frequency, the WBT acoustic models are substantially smaller than those acoustic models required for element-based methods like BEM or FEM. This enables to achieve accurate results with high computational efficiency.

Post-processing of airborne noise results such as sound pressure levels at microphone positions or on arbitrary field point meshes around the radiating structure is a separate and fast final step. Microphone positions and field point meshes can thus be added or modified without the need for recalculation of the sound radiation.
AVL EXCITE™ Acoustics is now available through the Altair Partner Alliance. Learn more
About AVL List GmbH
AVL is the world's largest independent company for development, simulation and testing technology of powertrains (hybrid, combustion engines, transmission, electric drive, batteries and software) for passenger cars, trucks and large engines.
Scope of Business:
Development of Powertrain Systems: AVL develops and improves all kinds of powertrain systems and is a competent partner to the engine and automotive industry. In addition AVL develops and markets the simulation methods which are necessary for the development work.
Engine Instrumentation and Test Systems: The products of this business area comprise all the instruments and systems required for engine and vehicle testing.
Advanced Simulation Technologies: The developed simulation software is focusing on design and optimization of powertrain systems and covers all phases of the development process.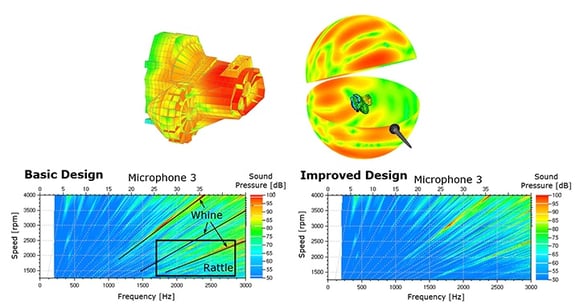 Assessment of transmission noise phenomena like gear rattle and whine.