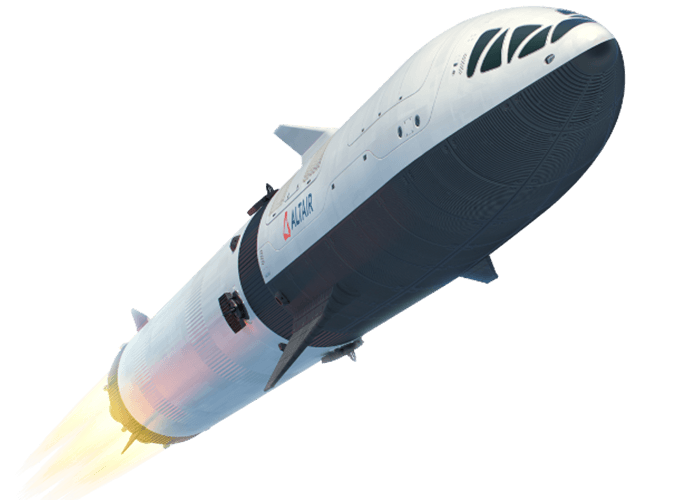 Aerostructures Architecture Optimization
October 12, 2022 | 1:00 p.m. - 1:30 p.m. ET (New York) / 10:00 a.m. PT (Los Angeles)
Aerospace engineering has been at the forefront both in modeling and design optimization due to the demand for high performance with lighter weight.
During the lifetime of aircrafts, every redundant pound of weight costs the manufacturer thousands of dollars, and this cost arises due to additional fuel needs to carry extra mass limiting the amount of payload (passenger or cargo) the aircraft can transport. To build lighter aircrafts, lightweight materials such as composites are used. However, the design of composite components can be complex as the material consists of different layers oriented in various directions resulting in countless possibilities to combine the material.
In this webinar, we will present how Altair optimization methods such as concept design, design finetuning, specific use-cases on fuselage, bulkhead, wing frame, etc., can be used to achieve design targets.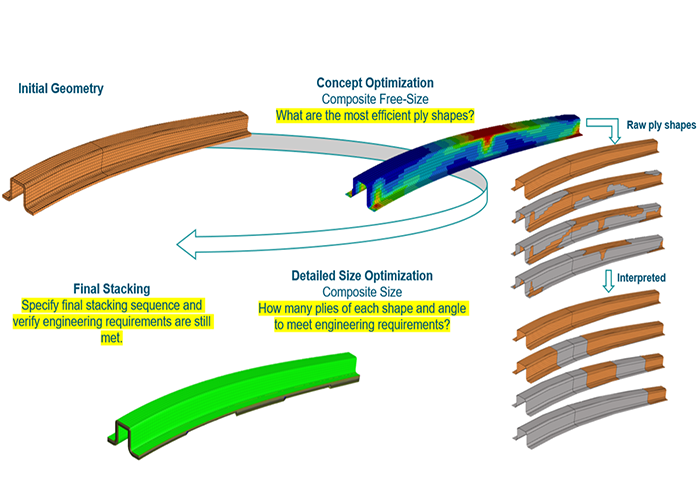 Composite Optimization
October 26, 2022 | 1:00 p.m. - 1:30 p.m. ET (New York) / 10:00 a.m. PT (Los Angeles)
Composite materials have become the structural material of choice in many industries due to their improved strength to weight ratios compared to more traditional materials. A design methodology specific to composites is necessary to take full advantage of the unique performance and manufacturing capabilities of these materials. This webinar will present Altair's composite optimization methodology which produces an efficient final design while meeting engineering requirements.
In this webinar, you will learn how to:
Identify efficient ply orientations and shapes for a given part
Determine the necessary number of each ply to meet engineering requirements
Produce a final, fully defined laminate for further analysis and manufacturing
Introducing AI/ML into Aerostructures
November 9, 2022 | 1:00 p.m. - 1:30 p.m. ET (New York) / 10:00 a.m. PT (Los Angeles)
Artificial Intelligence (AI) powered by Machine Learning (ML) can be used to improve product development and enterprise decision-making in the aerospace industry. Altair's solutions make it possible for you to use AI/ML without writing code, so you don't have to understand how the math methods work behind the scenes.
In this webinar, we will discuss concrete and applicable AI/ML solutions that can help you:
Improve CAE processes
Reduce repetitive tasks
Make real-time predictions
Emulate engineering expertise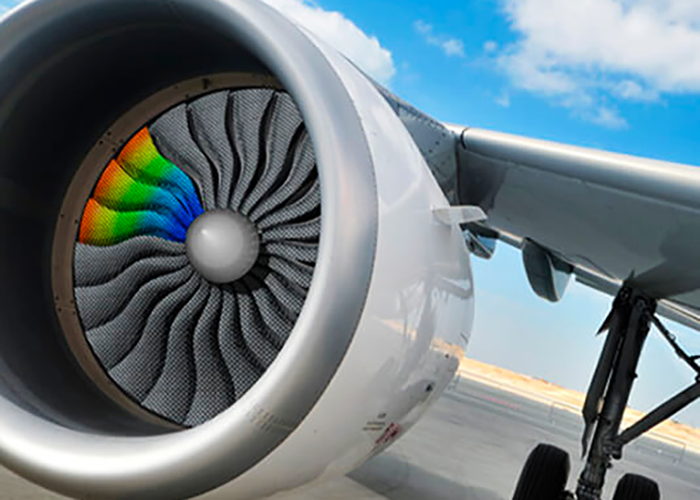 Plain and Simple Optimization
On-Demand Recording Now Available!
The aerospace industry is experiencing a transformation that is being accelerated by the exploration and development of emerging technologies with an eye towards sustainability, safety, and mobility. While this transformation is creating opportunities, it is also challenging the design process. The deployment of structural optimization methods can play a key role in augmenting the design process to ensure that design goals are met in the most efficient way.
In this webinar, we will cover a range of different optimization solutions for aerospace structures including:
Designing for stress targets
Optimal Fail-Safe architectures
Lightweighting while ensuring structural integrity