Webinar: Designing agricultural machinery using EDEM granular material simulation
Free live webinar - 5 languages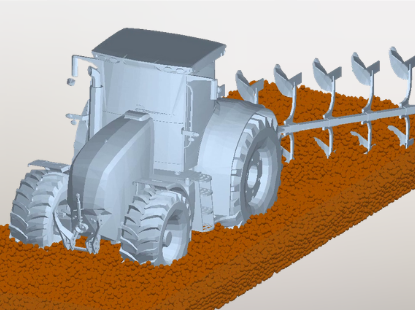 Learn how you can accelerate your design process and improve machine performance
Agricultural machinery such as tractors, combines and forage harvesters are all designed to work with a range of granular materials such as crops, seeds and soils. These materials can impact the performance of the machine and its durability. Typical issues might include blockage of fibres in harvesting equipment, wear of tools, uneven distribution of seeds and inefficient processes.
EDEM software accurately simulates the behavior of grains, seeds, crops and soils and provides engineers with crucial insight into how materials will interact with a piece of equipment during a range of operation and process conditions.
This webinar will introduce EDEM and explain how it can be used for the design, performance testing, and optimization of agricultural machinery – leading to shorter design cycles, less prototyping and improved machine performance.
Designing agricultural machinery using EDEM granular material simulation
The recording is now available
Konstruktion landwirtschaftlicher Maschinen mittels Partikel-Simulation
Dienstag, 8. September | 15.00 Uhr CEST
Diseño de maquinaria agrícola mediante simulación de material granular EDEM
14 de Septiembre | 17:00 CEST
Concevoir des machines agricoles en utilisant la simulation de matériaux granulaires avec EDEM
Mardi 15 septembre | 14:00 CEST
Progettazione di macchine agricole attraverso la simulazione di materiale granulare in EDEM
Each webinar will be recorded and made available to all registrants.

For more information about EDEM software visit www.altair.com/edem